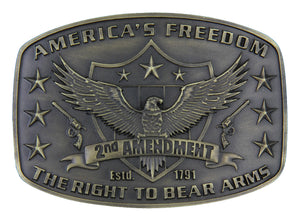 "2nd Amendment" Western Belt Buckle 
Our 2nd Amendment Western belt buckle crafted by U.S. artisans at Montana Silversmiths is a handsome brass rectangular Heritage Attitude Buckle now on sale at Wild West Living. The words "America's Freedom" is engraved across the top over the Image of an American bald eagle with shield and "2nd Amendment" banner in the center. Below the center art are the words "The Right To Bear Arms."

This good-looking 2nd Amendment belt buckle with a 1.5-inch belt swivel is accented with images of five-pointed stars and pistols on each side. The size is just wider than a standard belt strap. It's 3 3/4 inches wide and 2 5/8 inches tall. Don't use chemical or abrasive cleaners on this collectible belt buckle; instead, simply wipe with a damp cloth to maintain the sheen. This piece carries a one-year limited Montana Silversmiths warranty.
Dimensions: 3-3/4" Wide x 2-5/8" Tall
Please allow 7-10 days to ship
Warranty: Attitude buckles have a 1-year limited warranty on manufacturing defects when accompanied by a receipt. See our warranty policy for details.
Care and Storage: You can maintain your silver brilliance with an occasional wipe of a damp cloth. DO NOT use chemical or abrasive cleaners.