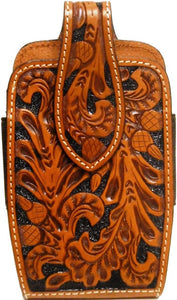 Western Tan Tooled Leather Cell Phone Holder for Samsung Galaxy Notebooks
This tooled tan and black leather features adjustable side straps. Heavy-duty swivel plastic belt clip (this cell phone holder can be vertical or horizontal) and magnetic closure.
Fits phones up to 5-7/8" tall x 3.12" Wide x 1/2" Thick
Perfect for Galaxy Notebook II and III (but without protective covering). Not recommended for iPhone 5 unless it has a large protective case. Otherwise would bounce around in this case. Should comfortably fit the iPhone 6, 7, and 8.