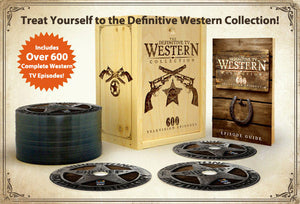 The Definitive TV Western Collection
ONLY 2 LEFT - HURRY! 
Incredible Value! 600 Complete Western TV Shows! Collectable Booklet! One of a Kind Branded Keepsake Wood Box
Wild West Living is pleased to present the Definitive TV Western Collection! The largest assortment of TV Western Shows ever assembled! Starring: Roy Rogers, Henry Fonda, Bob Denver, Lorne Greene, Michael Landon, Jackie Coogan, Forrest Tucker, Gabby Hayes, Lash LaRue, Clayton Moore, Buddy Ebsen, Tim Conway, Chuck Connors, Dale Evans and many more! Special Features Include:
One of a kind branded keepsake wood box
24 page collectable booklet featuring an episode guide, synopses, index and rate photographs
48 DVDs with 600 complete episodes! That's 265 hours of entertainment This compilation of rare - in some cases never-before-seen - television programs from the golden age of Hollywood represents the largest assortment of TV shows ever released! Relive your childhood or discover a truly unique brand of entertainment for the first time with 600 Episodes to choose from! Enjoy over 265 hours of family friendly entertainment with over 40 exceptional shows spanning the last six decades! Shows Included: Bonanza, Wagon Train, The Rifleman, The Lone Ranger, Dusty's Trail, The Cisco Kid, Annie Oakley and many more!