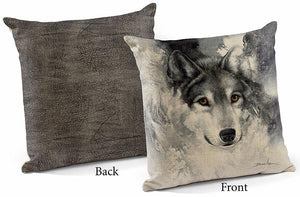 "Snow Wolf" 

18" Decorative Pillow

"Every once in a while I enjoy working without color and concentrate on only values, technique and composition. The eyes called for color and gave this wolf a soul."

Decorative and functional toss pillows add rustic charm to your home décor. Linen weave pillow cover is polyester/cotton blend with 100% polyester insert; 1 lb. weight. Hand washing recommended for longer lasting color. Hidden zipper closure.  Size, 18"H x 18"W. Arrives shrinkwrapped in plastic and inflates upon opening.