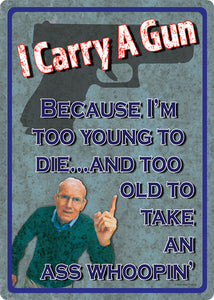 "Too Young to Die" Western Humorous Tin Sign
Keep unwanted sales people, varmints, and other visitors away with a healthy dose of humor when you post our humorous Western "Too Young to Die" tin sign from Wild West Living. The words No Soliciting are in white on red at the top of the sign. The rest of the vertical sign is white with black edging and black and red letters.
The text reads: "I Carry A Gun BECAUSE I'M TOO YOUNG TO DIE...AND TOO OLD TO TAKE AN ASS WHOOPIN'"
The sturdy tin go-away door sign is 12 inches wide and 17 inches long. It has rolled edges and a waterproof finish. Pre-punched corner holes make this funny Western sign easy to mount on a door or on a wall with your collection of other Western-theme signs with funny, faith-based and cowboy wisdom sayings.