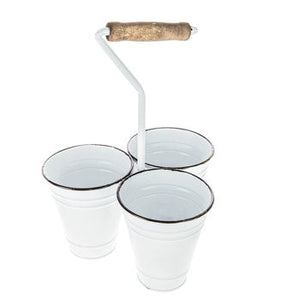 White Rustic Metal Pot Caddy
Bring out a rustic country-home vibe with the addition of themed storage solutions! White Rustic Metal Pot Caddy features a distressed appearance with a white enamel coating, black rims, and a white handle with wood grip attaching the three pots together. Use it to hold small items or display it on its own for a picturesque look.
Dimensions:
Length: 7 1/2"
Width: 8 1/4"
Pot Diameter: 4 1/8"
Height: 4 3/8" (11 1/2" with Handle)
Note: Decorative use only. Not intended for food use.