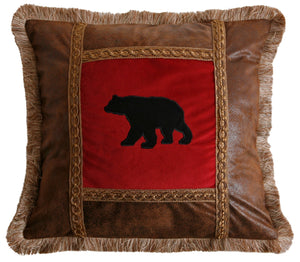 Adirondack Bear Pillow - 18"
The perfect complement to our Adirondack Collection, our bear applique pillow measures 18" x 18". Our bear pillow features an applique black bear, brush fringe, decorative gimp over seams.
Explore the rugged, unspoiled terrain of the Adirondack Mountains—without leaving your home! Our set captures the primitive peaks and foothills of the Adirondacks, inhabited by majestic whitetail deer and formidable black bears. Warm earth tones of crimson, brown and tan are accented by green shades of spruce and hemlock.
Our Adirondack fabric is 100% polyester with chenille blend threads. Solids are 100% polyester microfiber suede. Dry clean only.