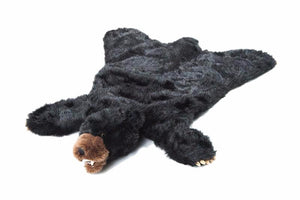 Adirondack Black Bear Rug (Large)
The perfect complement to our Adirondack Collection, our bear rug measures 60" x 42". When it's time to lounge in the living room or sprawl in the hall, we put the "rug" in rugged! Our soft and huggable plush bear rug captures the time-honored look of animal rugs, with skillfully detailed faces and paws. A non-skid backing allows adaptation to almost any floor setting. Our plush bear rug is just right for your hearth and home!
Explore the rugged, unspoiled terrain of the Adirondack Mountains—without leaving your home! Our set captures the primitive peaks and foothills of the Adirondacks, inhabited by majestic whitetail deer and formidable black bears. Warm earth tones of crimson, brown and tan are accented by green shades of spruce and hemlock.
Polyester Plush with non-skid backing. Spot clean.