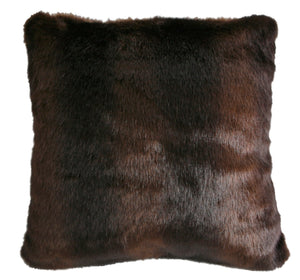 Adirondack Brown Bear Fur Pillow - 18"
The perfect complement to our Adirondack Collection, our bear fur pillow measures 18" x 18". For superior softness, try one of our luxurious faux fur pillows! With lavishly long fibers on the front that mimic the appearance and feel of real animal fur. The Wolf-Trimmed throw has a warm, plushy front and back and is edged with a faux fur trim. Our pillow is the perfect mix-and-match accessory for our Adirondack bedroom set! Coordinating pillows with fur front and back.
Explore the rugged, unspoiled terrain of the Adirondack Mountains—without leaving your home! Our set captures the primitive peaks and foothills of the Adirondacks, inhabited by majestic whitetail deer and formidable black bears. Warm earth tones of crimson, brown and tan are accented by green shades of spruce and hemlock.
Our Adirondack fabric is 100% polyester with chenille blend threads. Solids are 100% polyester microfiber suede. Dry clean only.