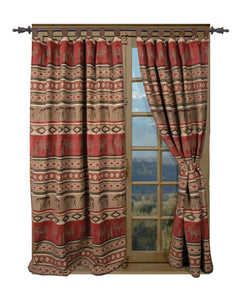 Adirondack Western Drapes with Tiebacks
Our Adirondack Drape Set with Tiebacks is the perfect compliment to our Adirondack Bedding. Set includes 2 panels.
Dimensions: 52" x 84" each.
Now you can explore the rugged, unspoiled terrain of the Adirondack Mountains—without leaving your home! Our set captures the primitive peaks and foothills of the Adirondacks, inhabited by majestic whitetail deer and formidable black bears. Warm earth tones of crimson, brown and tan are accented by green shades of spruce and hemlock.