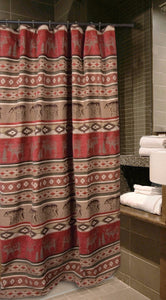 Arizona Style Shower Curtain
The perfect complement to our Arizona Style Collection, our shower curtain measures 72" x 72".
Discover the wide-open wonder of the Southwest! Our Arizona bedroom set captures the thrilling beauty of a diverse region, from the Grand Canyon to the Gila River. Brilliant blue hues denote a clear, arid sky and provide a stunning contrast to the vivid, desert-sunset tones of red, orange, and yellow. A warm, Native American motif is accented with authentic turquoise stone conchos, brush and tassel fringe, and a decorative gimp. It's time to make a statement both beautiful and bold, so look westward—to Arizona!