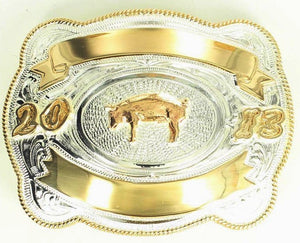 Silver Trophy Buckle with Choice of Year
Made by Crumrine, this Silver Trophy Buckle features TUFF Guard protection. This protective coating guarantees the finish and craftsmanship of our buckles. This buckle is ready for personalized engraving on top and bottom for up to 28 characters combined. Engraving is FREE! Click here to select an event figure (shown is Champ Swine): EVENT IMAGES
Not all images are available, only those on the drop-down menu above. 3-1/4" x 4"

(Current Year Will Show unless otherwise specified above).
Please allow 14-21 days on this made to order buckle.