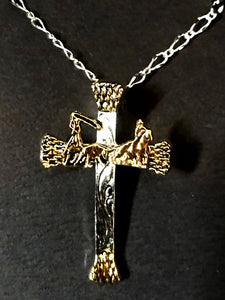 "Team Roper" Western Horseshoe Nail Cross Necklace
Cowboys roping a calf, one on horseback and one cowboy kneeling, create the design on our handsomely crafted 'Team Roper' Western horseshoe nail and cross necklace in gold tone and silver tone metal from Wild West Living. The roping scene in metal is the image that extends from the cross in a design that embraces the traditional with contemporary craftsmanship to show your Christian faith.
The cross pendant is 1 7/8 inches wide and 1 1/8 inches tall. The chain is 18 inches long. A damp cloth is all that's needed to clean this Western cross jewelry. Do not use chemicals or silver polish.