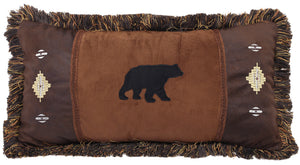 Autumn Trails Bear and Diamonds Pillow
Our Autumn Trails pillow features an appliqued black bear on Chestnut suede, Chocolate side with diamond embroidery, brush fringe, decorative gimp over seams. 14" x 26"
You can invite the rugged outdoors to your indoors and savor the splendor of autumn all year 'round! Our new Autumn Trail bedroom set perfectly captures the many colors and textures, sights and sounds of Mother Nature's favorite season—from earthy mountain paths and majestic wildlife to the placid paddling of a canoe's gentle journey. With warm, chestnut tones and cool pine accents, Autumn Trails is heartwarming décor any time of the year! Caramel, pine green, and black chenille are woven through this cabin stripe design including bear and deer motifs. Chestnut suede Euro shams with multi-colored brown brush fringe. Shams have Autumn Trails fabric center, brown sides, with black center band and decorative buttons. Pillow features Autumn Trails center with Chestnut suede side and multi-color brown brush fringe. Bed skirt is gathered Chestnut suede.