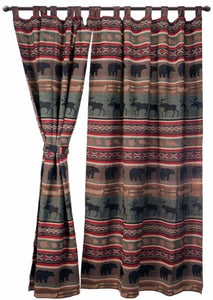 Backwoods Collection Drapes
Grab your pack 'cause it's time to explore the unexplored wonder of the woods! Our Backwoods bedroom collection is both regal and rural, with playful patterns of leaves, canoes, and oars contrasting with the silent silhouettes of bear and elk. The natural and homey hues of brown and green, red and tan are warm and welcoming, and the coordinating pillows, throws, and drapes add a splash of color and class. If you're on a quest for comfort, all trails lead to the Backwoods!

Our woven Backwoods fabric is 100% polyester with chenille blend threads. Solids are 100% polyester micro-fiber suede. Dry clean only.
Dimensions: 2 panels, each measures 54″x84″