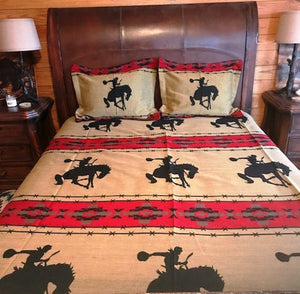 Bucking Horse Queen Bedspread and Pillow Shams Combo
This Great Package includes 1 Queen Size Bucking Horse Bedspread 
with Pillow Shams.   Woven in soft Acrylic yarn. Featuring classic patterns woven in the vibrant colors of the American Southwest. Great for any room of the house as a sofa throw blanket, seat cover, or cut-n-sew drapery and apparel. These famous bedspreads reflect the rich history of traditional Native style trade blankets. Fully reversible,
Bedspread: 88" x 96"
Shams: 24" x 30"