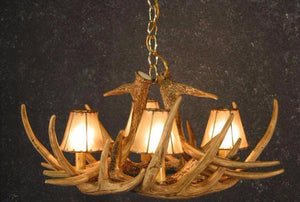 Whitetail Deer 6 Antler Chandelier with Rawhide Shades
Free Shipping!
Our Whitetail Deer 6 Antler Chandelier is very compact to create special lighting in small spaces. This antler chandelier is a great choice for a filler for smaller areas that need that special highlight. It has four 25-watt candle lights with rawhide shades. When looking for a way to light those small, deep corners, this chandelier is the perfect choice. 24" Wide x 11" Tall.
3 foot chain included
Canopy and mounting hardware included
Bulbs not included
4 Rawhide Shades
Faux Antlers individually hand-stained and finished for authentic look
All wiring internal Made in the USA!