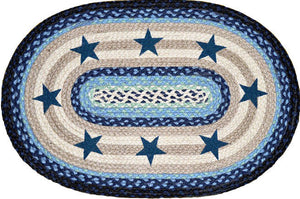 "Blue Stars" Hand Printed Western Placemat
Approximate Measurements: 13" x 19", 1/4" thickness.
Priced individually. Made from 100% natural jute fiber. Jute fiber is harvested from the bamboo-like Jute plant. Jute placemats are so durable that they withstand commercial use and can last a lifetime in the home. Eco-friendly and biodegradable! Plus jute is naturally moth proof! Placemats are yarn dyed with the highest quality chemical dyes available. For painted designs: vivid, color fast inks are used. Jute is one of the strongest fibers known to man and has natural water repellent characteristics. Water cannot damage a placemat woven from jute fiber. Just like other fine rugs, jute placemats can be cleaned with soap and water, with a mild carpet shampoo, or commercially dry-cleaned. Cleaning enhances the beauty of these rugs. Vacuum normally. Do not machine wash. Jute placemats meet the Consumer Products Safety Commission Standard FF-2-70 for flammability. What this really means is that they will not ignite, and will only smolder, so they are absolutely perfect near the fireplace. Because each placemat is hand-made, please allow for slight color or size variances.