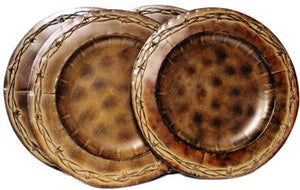 4-Pc. Round Barbwire Iron Trays/Chargers Brown
Use these barbwire chargers for any decorating ideas or to hold anything from fruits to potpourri. Each charger is 14" in diameter and 1" deep. The depressed part is 9-3/4" Diameter. Not food safe. Recommend wax paper if using for food.
Ships in a set of 4 only.