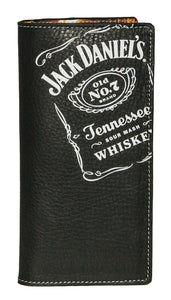 Jack Daniels Whiskey Rodeo Wallet
Make a statement with this leather rodeo wallet featuring the Jack Daniels Whiskey logo. Genuine leather interior and exterior with Jack Daniel's logo lining. The exterior features a screen printed Jack Daniel's bottle logo. The interior features a surprise barrel house image, taken in an actual Jack Daniel's barrel house where the whiskey is aged.
Dimensions: 3.5" x 7.25"