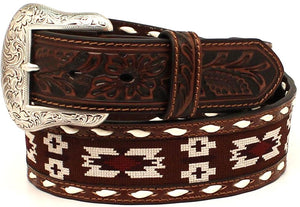 Men's Southwestern Brown Leather Belt with Fabric Buck Lacing (1-1/2")
Quality men's Nocona belt is made of genuine leather. It has beautiful floral embossed tabs and a southwester pattern inlay down the strap. Perfectly accented with contrast buck lacing.
As a general rule, if you wear size 34 jeans, your belt size is 36 (2" bigger). Braided Belts: Finished length approximately 46 and fits to size 42; or, finished length approximately 52 and fits to size 48.
Ships in 10-14 days.