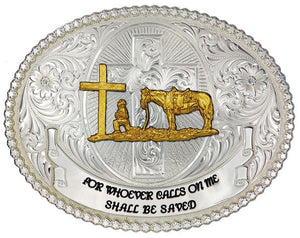 Faith & Wisdom Western Belt Buckle with Praying Cowboy
Please allow 7-10 days to ship
Large oval silver belt buckle with polished silver berry trim. The shining silver plate is fully engraved, featuring a detailed silver cross in the center and a polished scroll across the bottom engraved with the message "For whoever calls on me shall be saved", inspired by Joel 2:32. A gold Christian cowboy figure is applied to the center of the belt buckle. Standard 1.5" belt swivel.
5-1/8" Wide x 3-7/8" Tall 
Materials: Nickel alloy base. Gold and Silver electroplate. Montana Armor protective coating to prevent tarnishing.
Warranty: Attitude buckles have a 1 year limited warranty on manufacturing defects when accompanied by a receipt.