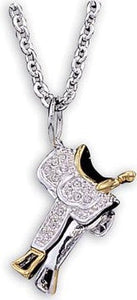 Western Silver & Gold 3-D Saddle Necklace
This elegant & dainty three dimensional saddle necklace features gold & silver electroplate an includes a silver chain.
Pendant: 3/4" Tall x 1/2" Wide x 1/4" Thick
Care and Maintenance: Use only a damp cloth to clean your jewelry. DO NOT use chemicals or silver polish.