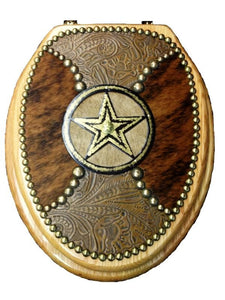 Western Embossed Leather & Cowhide Star Toilet Seat
Pictured is an Oak toilet seat is shown accented with "antiqued" natural tacks and French Natural tacking. Covered with hair on Brindle cowhide, and coordinating Woodlands Western Floral embossed leather. Finally, topped off with a "Circle Star" Metal cut out plaque! Just Excellent Quality and Gorgeous Installation hardware included. Cowhide color and pattern may vary.
Handmade in the USA.
Round: 14-1/2"W x 16"D x 3"H
Elongated: 14-1/2"W x 19-1/2"D x 2-1/2"H
Allow 3-4 weeks to ship