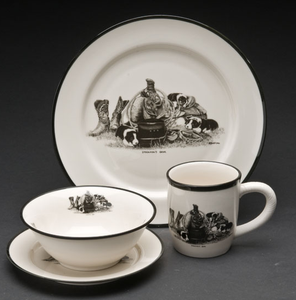 "Stockman's Gear" 16-Piece Ceramic Dinnerware Set Round
Free Shipping!
The images shown on our Stockman's Gear Dinnerware were done by Western Canadian artist, Bernie Brown.

Bernie is a self-taught pencil artist, born and raised in the province of Saskatchewan, now living in Okotoks, Alberta. A former junior high school art and physical education teacher, he has been a full-time artist for nearly 20 years. 

With a technique and style very much his own, he captures in vivid detail, scenes that depict a prairie heritage and western culture. Whether it's an action picture of a herd of wild horses, or wildlife, rodeo or a prairie scene, Brown's eye for detail has made him one of Canada's most recognized professional artists. 

Brown's artwork has earned him many accolades, from the "Best in Show" and "Feature Artist" at the Calgary Stampede to numerous national and international awards. Brown's art can be found in private collections all over the world and in many galleries in Western Canada, including his own BOOT HILL GALLERIES
Includes:
4 Dinner Plates - 10-1/2" diameter

4 Salad Plates  - 7-1/4" diameter

4 Bowls - 6" diameter

4 Mugs - 4" diameter x 4" tall

Dishwasher and microwave safe.